du wrote a new post, Autumn season approaches, on the site
2 weeks ago
du wrote a new post, New: 10 Euro bank notes, on the site
1 month ago

There is a new note on the streets. After a few days of announcements in the media the first tenners have arrived at the ATMs. I just got a few of the latest 10-€-billets when I went to the bank.
And I made up a little competition:
If one of these 3 bills come you way some time the just take a picture and post it here together with…[Read more]
du wrote a new post, Blog writing can be quick, on the site
1 month, 1 week ago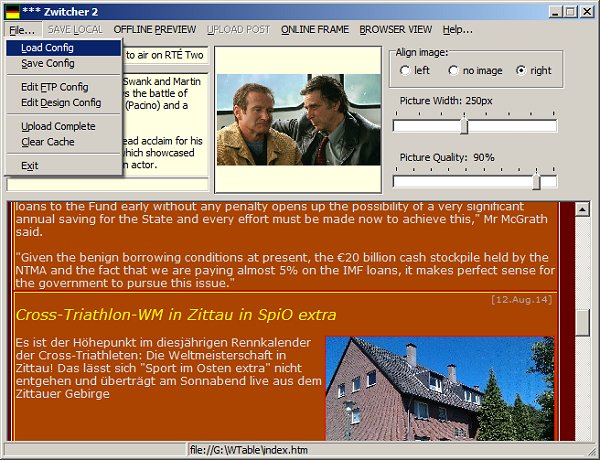 There is a new easy blog tool to use in conjunction with some free web space. I have already written about GETTING FREE WEB SPACE for blogs or other web pages.
Now there is a Windows program which could […]
Hi there to all readers:
There will be no more news on Jeanette, please read this:
Goodbye
Sorry, there is no-one here activating the comments on behalf of Jeanette.
du wrote a new post, Jeanius stopped blogging, on the site
1 month, 3 weeks ago
du wrote a new post, German Bundesliga today, on the site
2 months, 1 week ago
In Germany all football fanatics are waiting for the new season to begin.
And the new FOOTBALL BUNDESLIGA season starts today!

Highlight: FC Bayern München will be live on free tv as the winner of last […]
du wrote a new post, Pretty Sicily, on the site
4 months, 1 week ago
CATANIA
Just had another week abroad. This time the destination was the Italian island of Sicily. The city to stay at was Catania. That is 2 and a half hours by plane. And over an additional hour by bus to get to the hotel there.
Catania is a very historic city. Not only back yards but of course old cathedrals and ancient excavation…[Read more]
du commented on the post, Pictures of the day, on the site
5 months, 1 week ago
Hi there!
Whats going on with you?
Your blogs are asleep – are you OK?
du wrote a new post, Atlantic Tour, on the site
5 months, 3 weeks ago
Now it is spring time here and I took one week off. Traveled to my favorite destination: Ireland.
It`s a bit bad luck as I have picked typical Irish weather these days. But still there are some beautiful views over the countryside to the beaches. Just try to imagine there`s a ray of sunshine – it would be a dream…
You guys may be used…[Read more]
du wrote a new post, Bayern München Boss goes to prison, on the site
7 months, 2 weeks ago
The (Ex-) Manager and president of German football club Bayern München was charged for  tax evasion. He was sentenced to 3 years and 6 months in prison for failing to pay over 27 million Euros tax in the past 7 […]
du wrote a new post, The cool guys are back, on the site
7 months, 3 weeks ago
@lyndes Hi, Ivisited you B&B web site. Could you have the full HD image replaced for an exact fit one? It takes ages loading…, Cheers
du wrote a new post, Quiz: What is a "SWEATHOSE" ?, on the site
9 months ago
Maybe I was unclear:
You can not do much about it – and the counter needs some additional programming – which will not happen to soon…
Just remember when you tell people about your wordpress blogs you […]
Hi I noticed the counter @ http://jeaniuspics.wordpress.com/
You should propagate that link beginning with http:// and not with https://
The counter doesn't display properly when the page is called using https […]
Well, many writers left the platform. I do as well only check by from time to time…
Did you have trouble with the Group Counter? Or did you just test and not like it?