Oscar Pistorius vs Julius Malema – and Women vs Femicide?
February 23, 2013 in Blogs, South Africa, uncategorized
Who would have thought it hey.
Oscar overtook Julius on the news- globally.
Oscar has not made it on the blogs- but that is perfectly understandable- one does not speak badly of one's own…
besides the law must take its course hey, and Oscar is innocent till proven guilty of premeditated murder and Reeva's death since allegedly the target was an intruder
There was Reeva's corpse and a smoking gun but what do those matter …
It is only a woman that died and a woman's life is pretty cheap in South Africa, so cheap that most women are silent on the matter
Shame- I did not notice that white women donned comfortable shoes and took up posters to demand "No Bail".
I almost want to put my head on a block and say that at many courts across the country women of colour did just that for a sister who was raped or killed or both by a partner. I know an acquaintance of mine went to the court in Cape Town for much the same thing.
May Jacobs was brutally murdered last year and the community organizes to have a presence at hearings, so that the courts will know that the community keeps tabs and are outraged.about the possibility of bail. If women organized and demonstrated outside the court Nair would have known hey- officially and legally because permission to demonstrate while usually not refused is an official process.
Sorry Reeva- your sisters organize to protest the killing of whales and rhinos, but not for you- not for other sisters. Maybe they expect the township women to come out to do so.
The township women will  come out –  tbe community aunty and ANCWL members – they have heart after all and have come out to support other sisters across the social divide.
It is not good enough to come out to oppose bail for the killers of Anene as some white women have done but to stay at home for Reeva because her killer was not a man of colour- not black.
Dead is dead- femicide is femicide whether the killer is rich and white and disabled.
Reeva will never smile again, never be a bride or a mother nor feel the sun on her skin. Dead is dead.
Bless the rhinos, the whales …
Nair referenced along these lines as he granted bail to Oscar- he has no way of legally knowing that people are outraged
One woman even called in to the John Maythem show (John was actually off sick) and said that we all talk about Reeva a if she was an angel but that Reeva would never have looked at a poor man with no legs and we should all face it that if Oscar were not rich then Reeva would never have slept with him.
Yes, really… and she was white too.
So there we are- Oscar wiped the State of the Nation, the State of the WC Province and Malema off the news but the blogs are silent.
Of course the blogs suffered great pain in letting Malema go to begin with- he was such easy blog material and everyone could just blow off. One never knows- politics has strange bed fellows and perhaps Julius will rise from the ashes like the ANC did to become the ruling party, and he might yet become our president- :
It is just that it is noticeable that  for as long as Julius fear mongering could be fueled the stories flowed forth and now that there could be a wry smile about his bad luck he fades from the blogs …
Am I hitting hard?
Men and women on this platform are noticeably silent on the Oscar-Reeva murder. It is not about prejudging him. He killed. There is no debate about that. The only question that remains is whether he is guilty of premeditated murder. of Reeva. Ultimately he is guilty of killing with premeditation of the 'suspected intruder' behind the toilet door. He delivered four shots through that door and there was an interval between those shots. He had lots of time to think and act. He tweeted once about going into recon mode –
and why did his dogs not bark?
But our Oscar is cocooned in silence. Twitter tweets and tweets and global news spews forth relentlessly but the blogs do not speak… if only it had been Malema that done it hey…
Pistorius has dogs, – Enzo, a black-and-white bull terrier and Silo, a light-brown American pit bull.
Our Oscar who wanted to compete as normal who now reminds us intensely that he is disabled- recon strategies hey- games of the mind.
Some say that he will get off on technicalities- like Botha messed up at the crime scene …
Oscar Pistorius bail decision
condemned
Critics say release of celebrity sprinter sends wrong message in South Africa, where violence against women is seen as a national crisis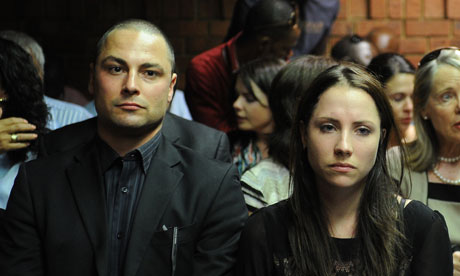 Oscar Pistorius's brother and sister, Carl and Aimee, at the courthouse in Pretoria on 22 February 2013. Photograph: Alexander Joe/AFP/Getty Images
The release of double amputee athlete Oscar Pistorius has been condemned for sending the wrong message in South Africa, a country where violence against women is seen as a national crisis.
The Olympian and Paralympian, who has admitted shooting dead his model girlfriend Reeva Steenkamp, was granted bail of 1m rand (£73,000) on Friday after a magistrate ruled that he does not pose a flight risk.
The African National Congress women's league (ANCWL) said it respected the bail ruling, but criticised the conduct of detective Hilton Botha, "who seemed unprofessional and unprepared during his cross-examination".
Spokeswoman Troy Martens added: "Some men in court… jumped up and celebrated the granting of bail as if they had won a trophy, forgetting that an innocent woman has lost her life. This is not the message men of this country, especially men with a degree of influence, should be sending to our youth. "
Professor Rachel Jewkes, director of gender and health research unit at the South African Medical Research Council, said: "This sends exactly the opposite message to what we want. It shows that the courts do not take gender violence seriously, especially in a situation as extreme as this. It's a symptom of a problem we have in South Africa."
She added. "It's very hard not to think Pistorius is being given special treatment because he's a celebrity. Bail seems to be extremely low for people with means."
Gender violence is rife in South Africa, where 56,272 rapes were recorded last year. Surveys have found between a quarter and a third of men admit committing rape. In court on Friday prosecutor Gerrie Nel made reference to president Jacob Zuma's recent state of the nation speech calling for the prevention of violence against women and children to be made a priority.
Steenkamp's family have not been in court this week, but on Friday there was an appearance by her friend Kim Myers and Myers's mother, Desi, both of whom were close to the model. "This is a bail application, it's not a trial, and we hope and pray that justice will prevail," Kim Myers said. "It's still a very sad time for us and we need to remember that somebody did lose their life, and our hearts, thoughts and prayers just go out to the Steenkamp family. We're still very sad. She was an amazing person."
The Pistorius family, who formed a circle and prayed in the courtroom, also paid tribute to Steenkamp. Pistorius's uncle Arnold told reporters: "We are relieved of the fact that Oscar got bail today. But at the same time we are in mourning for the death of Reeva with her family.
"As the family, we know Oscar's version of what happened that tragic night and we know that that is the truth and that will prevail in the coming court case."
Lawyers in the court blew on their perspiring hands as the magistrate read the arguments. Barry Roux, Pistorius's defence advocate, smiled: "Do I have a headache? Of course I was tense." He added: "I think it is a fair decision to grant bail. It was a bit hairy but it will be fine."
Speaking outside court, Medupe Simasiku, from South Africa's national prosecuting authority, told reporters: "The bail application does not mean that this person is acquitted." He said there was more work to be done and, when the court meets again on 4 June, they will have a better idea of when a trial can be held.
It is not uncommon for individuals facing murder charges to be released on bail in South Africa. The alternative can be years of awaiting trial in an overcrowded and dangerous prison system.
Antony Altbeker, author of Fruit of a Poisoned Tree, about a miscarriage of justice, said: "Society should err on the side of giving bail to the accused. The denial of bail should be limited to exceptional cases like a flight risk." He rejected the view that the magistrate should have considered the wider political consequences in South Africa. "Treating a bail hearing as an instrument for sending messages is problematic. Bail is about procedural fairness, not wider questions than that."
MALEMA MEETS DEADLINE TO OPPOSE TAX APPLICATION
Former president of the ANC Youth League Julius Malema has opposed an application by the South African Revenue Services (SARS) for the sequestration of his estate. SARS spokesman Adrian Lackay said Malema's lawyer, Nicqui Galaktiou was no longer acting for him, which had led to a delay in his filing notice of his intent to oppose the application. Malema's new attorney, Tumi Mokwena, confirmed that he'd met the Monday deadline. SARS hopes to recover a R16-million tax debt from Malema, and wants to sequestrate his movable and immovable assets, including his homes in Sandton and Polokwane. The application is to be heard on Wednesday next week.